Bibliography
Monterey Press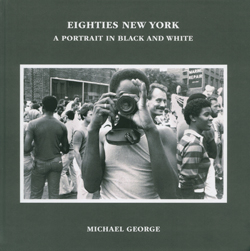 Eighties New York
A Portrait in Black and White
Monterey Press, East Sussex, March 2019, £100
215 x 215 mm, 160 black and white photographs, 212 pages, ISBN 978-0-9560188-2-3
In a succession of images of great formal elegance, arranged to be seen in their given sequence, well-known photographer and author Michael George delivers an intimate insider's view of America's greatest city in the gilded, often egregious eighties. Although he was born in Cardiff, Wales, New York was where Michael George started his career as a professional imager, gaining early recognition for what Grace Glueck, Art News Editor, The New York Times, praised as his "striking, beautifully composed architectural close-ups in both colour and black-and-white". An adept at photographing people unawares, and with a passion for accurate observation, Michael George provides a composite portrayal of New Yorkers, the embodiment of the true spirit of New York, in a stunning series of compelling originality, both candid and posed, seen against a backdrop of the built environment, featuring striking studies of the city's public sculpture and – another of the photographer's favourite subjects – soaring skyscrapers, such as the iconic Art Deco spires of the Chrysler and Empire State landmark buildings.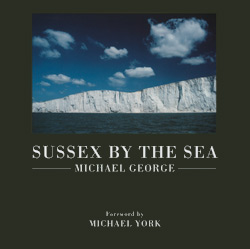 Sussex by the Sea
Monterey Press, East Sussex, July 2011, £25
220 x 220 mm, 166 colour photographs, 156 pages, ISBN 978-0-9560188-1-6
'Michael George has found so much to fascinate and inspire his artistic eye in his local surroundings, that all 166 photographs in Sussex by the Sea are taken in East Sussex… The whole book abounds in delightful contrasts; sumptuously beautiful landscape studies and seascapes nestling alongside photographs of Brighton and Eastbourne beaches that confirm one's gut instinct that the average English physique should seldom be allowed to be anything short of fully clothed. Double-page spreads allow for some witty juxtapositions.' David Jarman, Viva Lewes, August 2011
'Stunningly beautiful. Michael George's second book of photographs of the county capture a Sussex with "no jarring ugliness to menace the eye". Katie Rice, The Argus, 17 September 2011
'Despite the title of this sumptuous pictorial kaleidoscope, Michael George has not entirely confined himself to the briny delights of seaside Sussex…. The East Sussex-based freelance photographer has produced pictures which portray a blessed spot where it seems to be forever a summer afternoon.' Freddie Lawrence, Sussex Life, February 2012
'The totally absorbing Sussex by the Sea. I have always believed that bit of our coastline to be blessed above all others – and close to France – and love it.' Claire Tomalin, 17 June 2012
'I especially admire the picture of Hog Hill and am pleased to be known as "a contemporary musician of world renown". Wow! Sounds as stately as the windmill looks! Your photographs are beautiful and, as you rightly say, this is a part of the world that I love and to see it so well represented in your pictures is a true delight. Good luck with the Monterey Press.' Paul McCartney, 25 November 2011
'Beautiful book of photos, quite breathtaking!' Derek Jacobi, 6 December 2011
'The pictures are beautiful and bring back some good memories – particularly a geography trip at school when we went to see the meander at Cuckmere!' Jo Brand, 22 November 2012
'Your beautiful book – hugely appreciated and enjoyed.' David Hare, 20 November 2011
'Your lovely Sussex by the Sea. I don't know Sussex at all well, having been stationed there in National Service, Brighton of course because of the theatre but much of it unknown to me and your book whets the appetite!' Alan Bennett, 31 July 2011
'Your beautiful collection of photographs of Sussex by the Sea. When I'm in Brighton for the Lib Dem Conference I hope it looks as lovely as your pictures.' Nick Robinson, [undated], Autumn 2012
'Sussex by the Sea looks quite gorgeous! If I ever had to leave Wales I would become an illegal immigrant to Bexhill-on-Sea!' Jan Morris, 2 August 2011
'The photographs are stunning and the book itself is beautifully made.' Chris Riddell, 7 October 2011
'Your very beautiful book. The photos are refreshing as they capture the character and humour of the place as well as its beauties in a way that the normal coffee-table book on the "set sites" never could.' Ptolemy Dean, 20 January 2013
'I am glad to say confirms all the high expectations I felt when reading The South Downs. If anything Sussex by the Sea is even more handsome and alluring.' Michael Holroyd, 30 July 2011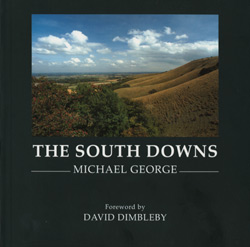 The South Downs
Monterey Press, East Sussex, September 2008, £19.99
220 x 220 mm, 101 colour photographs, 112 pages, pb, ISBN 978-0-9560188-0-9
'It looks wonderful and I can't wait to curl up with it.' Bill Bryson, 20 December 2008
'Your quite superb book. The South Downs have never looked lovelier.' Joanna Lumley, 29 November 2008
'I absolutely love The South Downs and I have been poring over it. The photographs are not only of their subjects but also of your vision, and are sometimes like the sudden idea for a short story.' Ronald Blythe, 2 September 2008
'Fine photographs of the South Downs. What marvellous vernacular architecture!' Richard Mabey, 28 October 2009
'Your book about the South Downs, wonderful and visionary as it is. I walked from Eastbourne to Winchester thirty years ago when I left Cambridge and then back along the Pilgrim's Way to Canterbury before cutting down here into the Weald. I have always been in love with chalk, and just recently wrote a book about the 17th century estates of the Earls of Pembroke around Wilton. Such wonderful country, such wonderful rivers, England at its glowing best: although I have lived most of my life on the clay I completely fell in love with it.' Adam Nicolson, 18 September 2008
'It looks splendid.' Simon Jenkins, 25 September 2008
'What an excitement to receive your beautiful book on the South Downs. Many of the places I know through people I've written on, especially Eric Gill.… I'm concentrating on the writing of my new biography of Edward Burne-Jones. Your final picture of the Rottingdean window will certainly inspire me.' Fiona MacCarthy, 20 September 2008
'Lovely.' Jan Morris, 2 September 2009
'Book of splendid photographs. Having lived at the foot of Ditchling Beacon for the last 41 years, the Downs are very close to my heart.' Raymond Briggs, 24 November 2008
'Most handsome. As an inhabitant of the North Downs, I shall read it with interest and enjoyment.' David Starkey, 6 May 2009
'It's very beautiful. I'm filled with admiration for the thought and patience which must go into catching just the right moment for sun and shadow, cloud shapes and incidental detail, to make the perfect image – which you capture over and over again! It must be fascinating to do – and certainly its results are lovely to see.' Diana Athill, 23 September 2008
'I would just like to say how lovely your South Downs book is. It is so full of vitality and wonder and a fantastically original eye has picked up lovely little details everywhere. The South Downs must be very proud to be so immortalised.' Jilly Cooper, 13 June 2011
'It's a truly excellent and most handsome production which promises well for the Monterey Press.' Michael Holroyd, 25 September 2009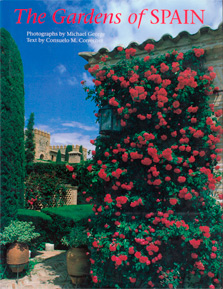 The Gardens of Spain
Harry N. Abrams, Inc., Publishers, New York, October 1993, $60.00
12 x 9 ins, 203 colour photographs, 200 pages
Antique Collectors' Club, Woodbridge, Suffolk, October 1993, £35.00

Special Selection, Book-of-the-Month Club, Inc. (USA)
Special Selection, The Garden Book Club (USA)

in Germany published as
Spanische Gärten
Deutsche Verlags-Anstalt, Stuttgart, 1997
'George's photographs convey an excellent sense of place as well as the beauty and character of Spain.' Laura Lipton, Library Journal, 1 November 1993
'Michael George has done a brilliant job of photographing some of those hidden, wonderful, private places in Spain.' Digby Diehl, Good Morning America, WABC-TV, 30 November 1993
'Here we are shown, in Michael George's magnificent colour shots, the glories of Spanish gardens.' House & Garden, December 1993
'Michael George's The Gardens of Spain will be a revelation.' Mac Griswold, Contributor, Town & Country, December 1993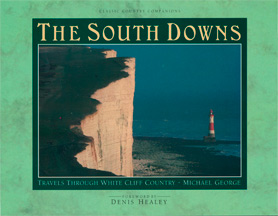 The South Downs
Travels Through White Cliff Country
Pavilion Books Limited, London, with The National Trust, May 1992
7¾ x 10 ins, 147 colour photographs, 160 pages, £14.99
Trafalgar Square Publishing, North Pomfret, Vermont, hb, $34.95; pb, $17.95

Alternate Selection, World Books, Book Club Associates (UK)
Pavilion Books Limited, London, March 1993, pb, £7.99
Parkgate Books Ltd, London, May 1998, pb, £4.99
'His beautiful photographs, often starkly geometric in the harsh light of East Sussex, are accompanied by an informed commentary.' Adam Trimingham, Evening Argus, 8 August 1992
'This collection of stunning images.' Paul Gates, Managing Editor, Professional Magazine, Kodak Limited, Autumn 1992
'Your quite lovely book of photographs. What memories they bring back! Alas! You, with your clever eye have missed out much of the ruination of that once lovely country. It looks, from your book, almost as it was when I lived up on the hill at Lullington. Dirk Bogarde, 26 August 1994
'It is a beautiful collection of colour photographs with a brief but entertaining and informative commentary.' Dr Peter Brandon, President: South Downs Society (2004-2011), Chairman: Sussex CPRE Branch, Countryside Campaigner, Autumn 1992
'A worthy first volume in Pavilion's new series of Classic Country Companions.' Roy Green, Editor, The Photographic Journal, The Royal Photographic Society, Autumn 1992
'This book, the work of a member of the Society, was originally published as a hardback in 1992 and was reviewed in the Autumn Downsman that year. Now, if we did not buy it then, we have the opportunity to own it as a paperback. The introduction and text accompanying the photographs pack pleasingly into a few words an abundance of information about the history of the downs and man's imprint on them from pre-Roman times to the present day. The author's interests are wide-ranging and I doubt whether many Downsmen will fail to add to their knowledge and appreciation of the downs through reading the book. There is humour and there are warning notes on the continuing damage to this unique landscape. The author acknowledges the part played by our Society in protecting the downs and his book should act as a spur to our future endeavours. Always his photographs powerfully reveal the essence of his subject. They portray the history, architecture and communal life of the downs country as well as sweeping landscapes. There are over 150 pages and nearly as many photographs reproduced to the same high standard of the hardback edition. I find this a deeply satisfying book. It stands out in the ceaseless stream of new Sussex writings and at £5 is unquestionably a bargain.' Richard Reed, The Downsman, South Downs Society, Autumn 1998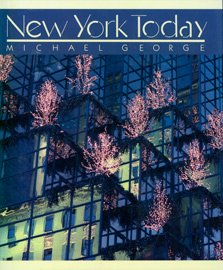 New York Today
Harry N. Abrams, Inc., Publishers, New York, August 1988, $29.95
11 x 9 ins, 151 colour photographs, 160 pages
'Though it is true that a picture's worth a thousand words, the extensive, uniquely informative, well-written captions provide a wealth of history to complement this interesting collection of pictures … wonderfully captured, distinctly New York moments.' Victoria Kohl, Promenade, October 1988 through March 1989
'If the mood strikes and you purchase Michael George's up-to-the-minute photo portrait of protean New York ("It'll be a great city if they ever finish it."), be prepared for more than colorful pictures of a colorful subject. Get ready for a good read. If you're at all interested in Gotham's culture and history, George's terse but highly informative captions almost upstage the book's handsome photography. Almost, but not entirely. Its sharp, vibrant pictures – all made with Olympus equipment – depict the people, vitality, and splendid architecture that make New York the capital of the world for so many… If you know an ex New Yorker who pines for a bagel with cream cheese or a game at Yankee Stadium, here's the perfect gift.' Peter Kolonia, Associate Editor, Popular Photography, June 1989
'A stunning photographic profile of New York presented in color and covering all aspects of this multi-faceted city.… George captures it all in this handsome studio book, full of panoramic views and close-up studies of people and building façades, all in sharp focus and all presented in such beautiful color contrasts that some look like oil paintings.' Patrick Campbell, Irish Echo, 19 August 1988
'The book, New York Today, is fantastic! I was impressed not only by the beautiful shot of Trump Tower on the cover, but also by the great photography throughout. I appreciate having been included in such a great project.' Donald J. Trump, President, The Trump Organization, 12 October 1989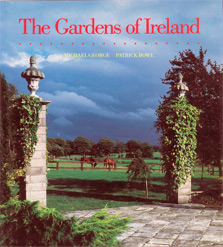 The Gardens of Ireland
A New York Graphic Society Book/Little, Brown and Company, Boston, November 1986, $39.95
and
Century Hutchinson Limited, London, November 1986, £18.95
11½ x 10½ ins, 198 colour photographs, 192 pages

Alternate Selection, The Garden Book Club (USA)
'George's photographs emphasize the gardens' painterly color contrasts and expressive formal design.' Publishers Weekly, 17 October 1986
'The many colour photographs by Michael George give the real feel of our beautiful country as they catch the luminous glow of plants in the soft Irish air.' Edna White, Irish Times, 25 October 1986
'Should come as nothing short of a revelation. In magnificent picture and word, we encounter some of the grandest gardens on Earth. This is a beautiful volume, lovingly put together.' Barbara Saltzman, Los Angeles Times, 30 November 1986
'Sheer visual delight, with magnificent colour photographs of gardens great and small.' House & Garden, December 1986
'This lusciously beautiful book. The twenty-one gardens explored could not, it seems, have been photographed to better advantage.' Texas Homes, December 1986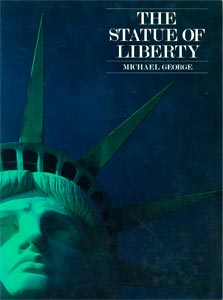 The Statue of Liberty
Harry N. Abrams, Inc., Publishers, New York, March 1985
14¼ x 10½ ins, 30 colour photographs, 56 pages, pb, $14.95
'An arresting tribute to the Statue of Liberty as she approaches her 100th birthday, this large-format book displays some remarkable photography. Full-page images of the proud lady show panoramas of the Manhattan skyline as well as the statue's exquisite detail, and reveal George as a highly accomplished photographer.' Publishers Weekly, 22 February 1985
'George has accompanied his album of dark-skied, meditative, and exalting photographs of the colossus of Bedloe's Island with a brief historical essay. George's photographic homage is for virtually all American libraries.' Booklist, 15 June 1985
'The poster format is put to good use in this dramatically photographed series of shots. George is not only a good photographer who knows how to use the sky like a Broadway lighting designer, but a deft writer; his witty and informative text is amplified by thoughtful selections from poets, philosophers and statesmen on the concept of liberty.' Digby Diehl, Los Angeles Herald-Examiner, 17 July 1985
'Engrossing. It is lively visual entertainment. The full page colour photographs (one of which has been reproduced in black and white on the cover of this issue) are unusual and appealing compositions in themselves, encouraging the viewer to look at the statue as a thing of beauty. The brief text nicely sums up the evolution of the colossal sculpture.' Sculpture Review, Summer 1985
Portfolio
The Brooklyn Bridge 1883-1983
A Centennial Portfolio
Photographs by Michael George
A limited edition presented by the New York Times Advertising Department, May 1983
To commemorate the hundredth anniversary of the opening of the Brooklyn Bridge, and following completion of its restoration, in May 1983 the New York Times presented major clients of the newspaper with a limited edition portfolio of six photographs of the bridge by Michael George.
Collective works
Manhattan
Harry N. Abrams, Inc., Publishers, New York, October 1981, $60.00
12¼ x 9¼ ins, 210 colour photographs, 256 pages
Dumont Guide Ireland
Stewart, Tabori & Chang Inc., New York, April 1984
8 x 6 ins, 174 photographs, 27 in colour, 302 pages, pb, $12.95
The Liberty Centennial 1886-1986
The Fourth of July Weekend
A limited edition for the US Navy by Welcome Enterprises Inc., New York, October 1986
12½ x 9½ ins, 160 colour photographs, 160 pages